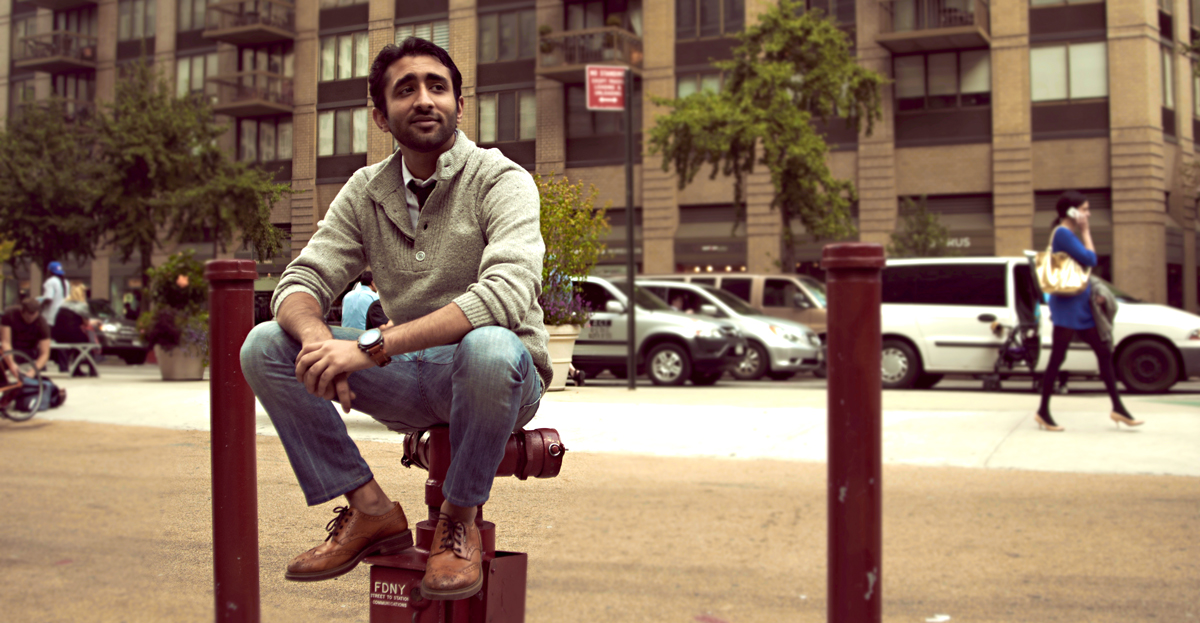 We're excited to feature an interview with Anoop Kansupada, Founder/CEO, Dapprly, Inc.  Dapprly is a social men's fashion app that allows users to get private or public style advice. All you have to do is take photos of two different outfits, note where you're going and when you're going there. After that, it's up to your friends or the public to vote for what looks best!
Q: What were you doing before starting this company?
After completing my degree in International Business and Hospitality Management at GW and a series of poor internship experiences in various fields of finance, I realized that the best way to figure out what I wanted to do was to get detached from all of it and start with a fresh mind. So, I went backpacking in Asia for an entire year. My backpacking trip taught me so much more than all my previous living years had. For instance, it taught me "to travel like a rockstart without spending like one." I now also teach a Skillshare class with that same name, alongside Dapprly, of course.
Q: Where did your vision/inspiration for this company come from?
When I had just moved to New York, I was going to take out a girl on a typical New York date – brunch. Little did I know, I had no clue what to wear to such a venue – I'm not from NYC. I found myself wishing for an efficient and fun way to reach New Yorkers and get their opinion on my clothing options. After a couple of months, I presented the idea of Dapprly at Startup Weekend where I won third place. The rest is history (and an app).
Q: What problem are you solving, and why does the world need your product?
There are currently no comparative fashion apps directly targeting men, which is strange considering the size of the men's fashion market. Men actually comprise the fastest growing segment of the adult apparel market, reaching a worth of $55 million in 2011. That same market is hungry for more content and more outlets to express their passions. One of those is Dapprly.
Q: What keeps you motivated?
The cause. I'm a guy who had no idea what fuchsia was, I never even thought about fashion before Dapprly. I grew up thinking I was going to be a banker. If a previously aspiring banker like myself realized the need for a men's fashion app, it is obvious that Dapprly fills an enormous gap in the men's fashion market. Filling that gap is enough reason for me to keep going. In addition, I have an awesome team that keeps me motivated by working hard, playing hard, and being really fun and inspiring to have around.
Q: What keeps you up at night?
Work, strategies, and next steps. Then there's email correspondence with my Community Manager, Jovana Obradovic. She has this tendency of coming up with ideas before she goes to bed (early in the morning..).
Q: What has been the most challenging aspect about building your startup so far? What has been the most rewarding?
The most challenging aspect has been building a crew that works together and that gives Dapprly their all. Startup world is hard and hustling is part of it. Not a lot of people are willing to do that (without any monetary rewards).
Q: What advice would you give to other aspiring entrepreneurs?
Be passionate and be careful. Be passionate about what you're doing. Startups are hard and there are going to be times where you disagree and struggle for it to make it work. All of it will be worth it, though, when you realize that the team dynamic is sustained by the mutual passion, which also creates a comfortable and nourishing company culture. You also have to be careful when assembling your team. Keep in mind the vision of your ideal team and hire people with the goal of making that vision your company's reality.
Q: What do you do for fun when not working on your company?
I work on my company, Dapprly. What else would a 26-year-old Startup Founder do? Oh right, maybe eat and drink.
Follow Anoop and Dapprly: @dapprly, @noop212